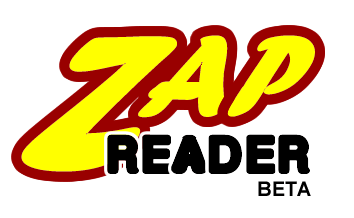 So Much to Read . . . So Little Time!
ZAP Reader is a web based speed reading program that will change the way you read on your computer. Current beta testers report reading twice as much in half the time—that's a 300% increase in reading speed, without any loss in comprehension! There is nothing to install, it works with most popular browsers, and it's totally free!
Reader - If you have some text that you want to read fast, copy it onto your computer's clipboard, click this link, and follow the instructions to Zap read that text.
Settings - By default, Zap Reader allows you to read at 300 words per minute, one word at a time. Use the settings feature to configure Zap Reader with your own preferences.
Tools - Zap Reader is designed to be easy to integrate with other programs. Find out about browser bookmarklets, program ad-ins, and other integration tools here.
Click the "Play" button below for a quick 2-minute tutorial on how to use Zap Reader.
ZapReader is a free service provided by 7-Speed-ReadingTM. If you like this site, please have a look at our powerful 7 Speed Reading Software.
Copyright © 2006-2013 by eReflect Pty Ltd. All Rights Reserved.